What is Hydraulic Metal Chips Briquette Machine from China Manufacturer
2019-01-29
XI'AN GRAND HARVEST EQUIPMENT CO.,LTD
The Hydraulic Briquetting Machine is a equipment that can press copper powder,scrap cast iron,aluminum scraps,scrap steel, Ball mill castings ,Iron ore powder, Quenched blast furnace slag and Other non-ferrous metal scrap under high pressure with hydraulic system cold pressed into weight 2.5~10KG cylinder briquette.it's convenience for transport and storage.
Mainly all kinds of metal chip,making them brick.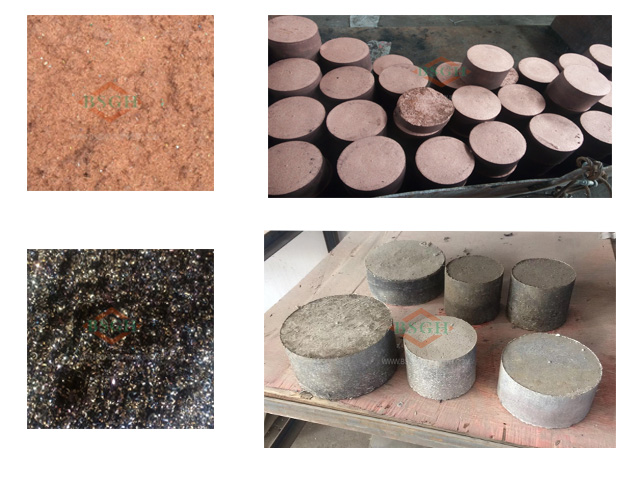 Classification models: vertical type and horizontal type.
The Hydraulic Press Machine is mainly using a cold metal stamping press technology to process metal scraps or metal powdery grainy:
1:adopt hydraulic transmission,
2:reasonable structure,easy to maintance
3:vibration free,no noise.
4: the high and low pressure is separated control.
5: only the brick briquetting adopt high pressure, others operation is low pressure, thus can lower down the power consumption and machine is life long durable,the most important is the fault rate is minimized.
Hydraulic brick machine adopt the high pressure resistant, high temperature resistance ST RING sealing, it can work 20hours without any stop.
standard configuration:
water cooling system, Sensor thermometer, Automatic stop when oil temperature is too high and Forced cooling function.
for full automatic adopt the german import PLC controller, And equipped with text display adjuster , When the operating speed is greatly affected by the change of ambient temperature, the operator can adjust freely.
About the hydraulic briquetting machine market:
for now, after 20year experience in this fields, our technical is improved and updated, The quality and technology have reached the international leading level,domestic market share is upto 70% also export to many country.
The Hydraulic Briquette Press Machine is used to recycle the metal scrap produced by the scrap Cable Granulator Machine(a machinery to separate copper wires or aluminum cable from scrap wires with pvc skin), compress the metal scrap into briquette or block, and then place them in a furnace for melting,thus it can reduce the metal loss in furnace and improve the economic benefit.
How to choose a suitable Hydraulic Briquetting Press machine?
First, what materials do you have?copper powder, aluminum scrap or iron scrap,or others?different material needs different type machine in the market.
Then,which hydraulic briquette machine suits for you depending on the capacity of copper powder, aluminum scrap or iron scrap you want to process per hour or per day.there is many Press Briquetting Machines with different capacity .(more details,please contact me:wahtsapp:008613772508206/email:jocyrecycling@bsghequipment.com)
Next,when you know the press brick machine marketing information,and asked some hydraulic briquetting press machine suppliers or manufacturers,you need know their background,(how many years in the field,how many experience?what is the material of the machine?how's the quality?(--different price different quality)what service i can get? and etc.)
Video of the metals chips briquetting machine:https://www.youtube.com/watch?v=K3RDtZN7Ses
if you are interested in the hydraulic briquetting press machine,contact me as following:
Whatsapp:008613772508206
Email:jocyrecycling@bsghequipment.com
Website:www.bsghequipment.com
Facebook:https://www.facebook.com/bsghequipment/

machinery,bsgh ,industrial ,metal ,automatic,environmental ,hydraulicbriquettingmachine,pressbriquettingmachine,cablegranulatormachine ,copperwirerecyclingmachine,hydraulic metal stamping press machine,hydraulic press brick making machine,aluminum chips briquetting machine,hydraulic briquette presses